Violin built by William Szott – Manchester 2022
The very talented violin maker William Szott from England was on a working stay in my workshop a while back. After he returned to his own workshop, we have continued to work together. It has resulted in him building four violins on my own personal "von der Lippe" model, and all are played daily by delighted Norwegian musicians and music students.
The fifth violin is now ready to be presented in Norway. It is interesting to see how Williams' personality shines through in this violin, which he has also varnished with his self-composed oil varnish. The violin is set up with Rondo strings, and has a lovely tone. This is the instrument for those who want the taste of a von der Lippe violin, but at an affordable price. The violin is insured and can be borrowed at home for up to two weeks. You can watch a YouTube video of another W. Szott violin at the bottom of this page.
Get in touch on 90019140 or jacob@vonderlippe.com if you want to try the violin. It can be borrowed to take home for up to two weeks and is insured.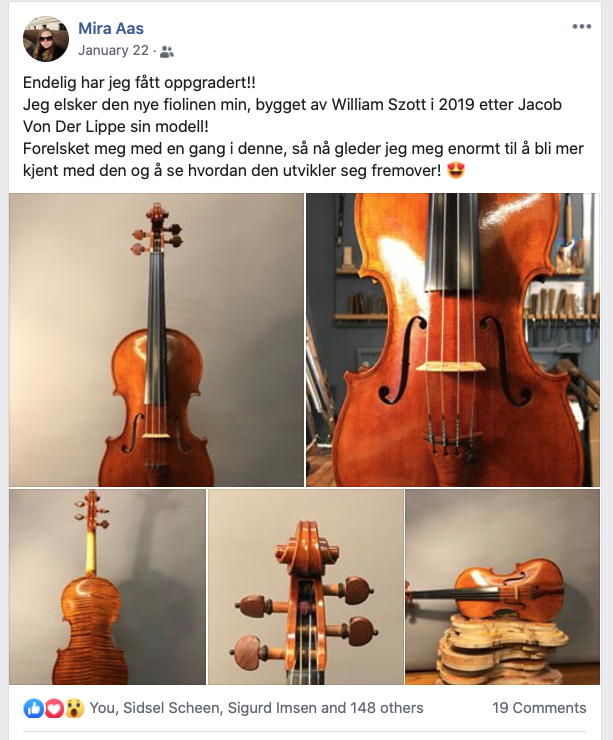 Tell me what you're looking for
I have extensive experience with musicians at all levels. Whether you are a music student, freelancer, orchestra musician or soloist, I understand and listen to your wishes. You can always borrow with instruments and bows on home loans up to two weeks, insurance is taken care of.